I joined halfway through the Sim Race South Africa 2020.1 season and set my sights on enjoying some good racing with other like-minded indivuals. I took part in a total of four races: three simGP races and one simiGTc race. For the simiGTc league liveries could only be designed within the sim, in this case Assetto Corsa Competizione (ACC), so I could easily slap something together. I raced in one of the stock liveries for the first simGP race at Silverstone and managed to put together the "Jelly Baby" livery I used for the last two races, a livery that I might just keep for the 2020.2 season.
2020.2 season
The 2020.2 season at SRSA will consist of 3 different championships:
simGT series - GT3
simGP series - Formula 3
simTC series - WTCR
Both the simGT and simTC series allows drivers to choose what cars they'd prefer to race and everybody jumps into the same Formula 3 car that they go tune for the simGP series. I've chosen to race in the 2019 Aston Martin V8 Vantage GT3 for the simGT series and the Audi RS 3 LMS TCR for the simTC series. The simGP and simTC series will be using classic Assetto Corsa and there's already a lot of tutorials out there showing how to go about creating a custom livery.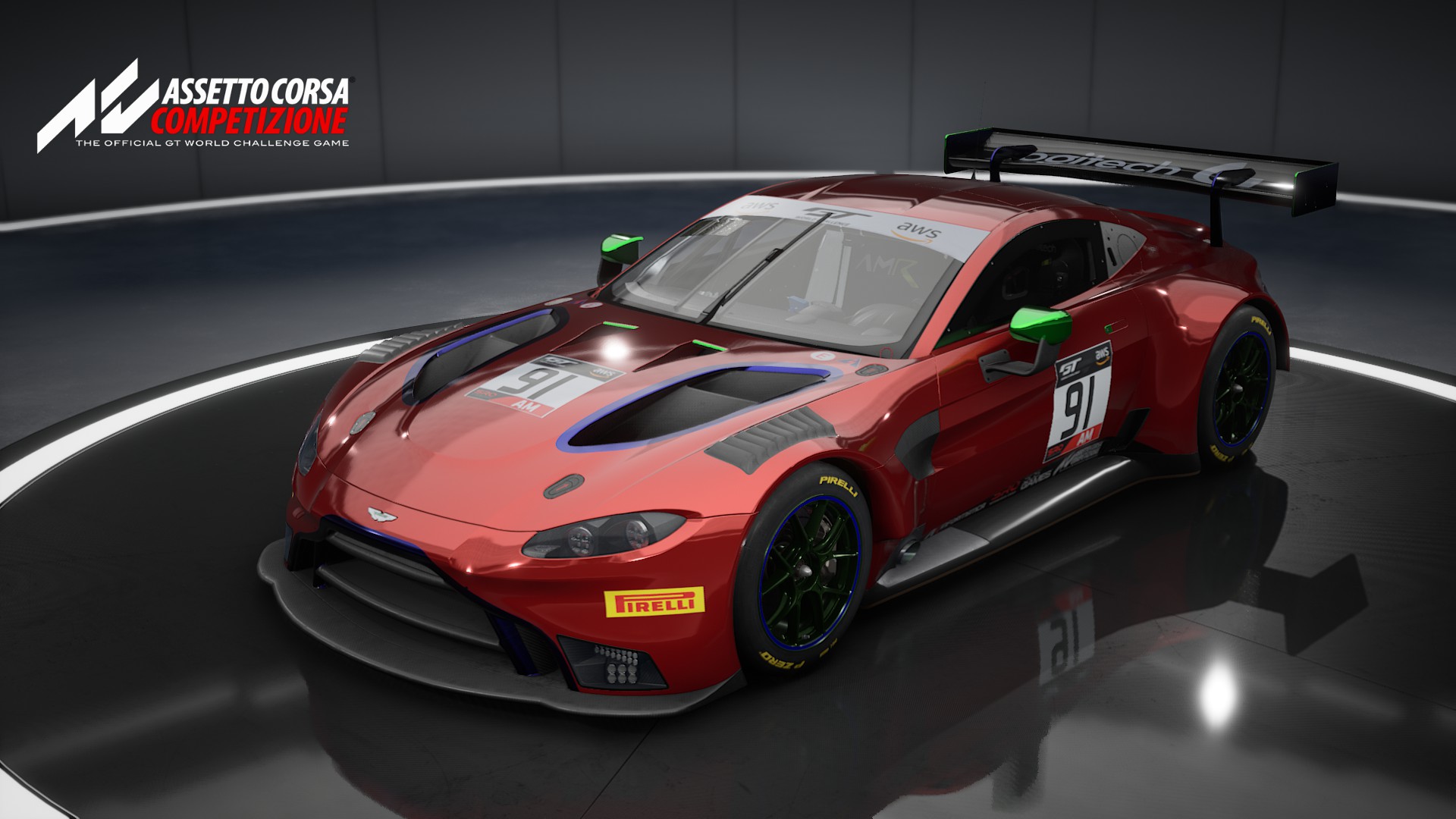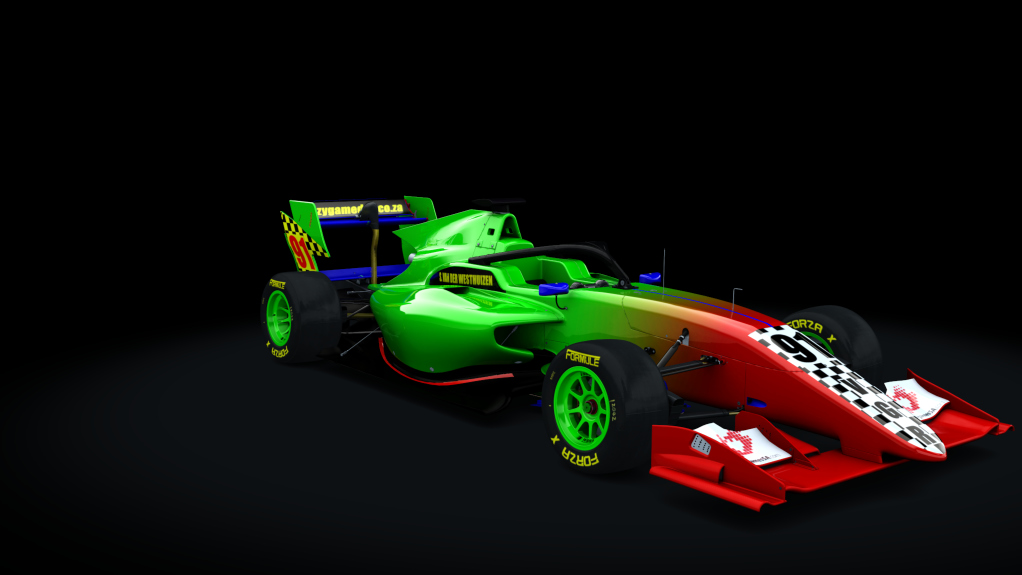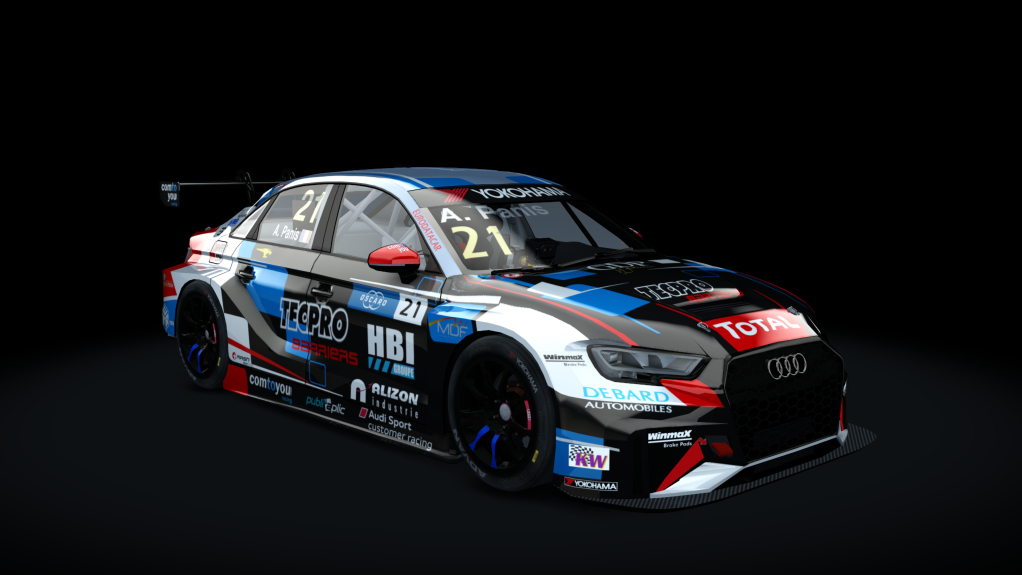 Goals
The 2020.2 series starts on 6 July 2020 and while I don't have to have all liveries ready by then, I will need to have the Aston Martin's livery ready for the first race. My aim is to do the following:
Aston Martin Livery
Audi Livery
If time permits and I can come up with a design that works I'd also like giving F3 livery a touch-up.
Handy Tutorials
Some handy tutorials I've found to aid the livery design process.
Assetto Corsa
Assetto Corsa Competizione
2020-07-22
Unfortunately my cousin was having some trouble with her laptop and couldn't get a livery designed. I raced in my 2020.1b livery for the simGP race which, in the end, isn't that big a deal because we didn't have that race streamed. Tonight I had my first race as part of the 2020.2 simTC series and I managed to quickly throw together a livery for the race last night but failed to update this post. I'll likely stick with this for the entire season because I've already seen what it looks like on the stream and I'm very happy.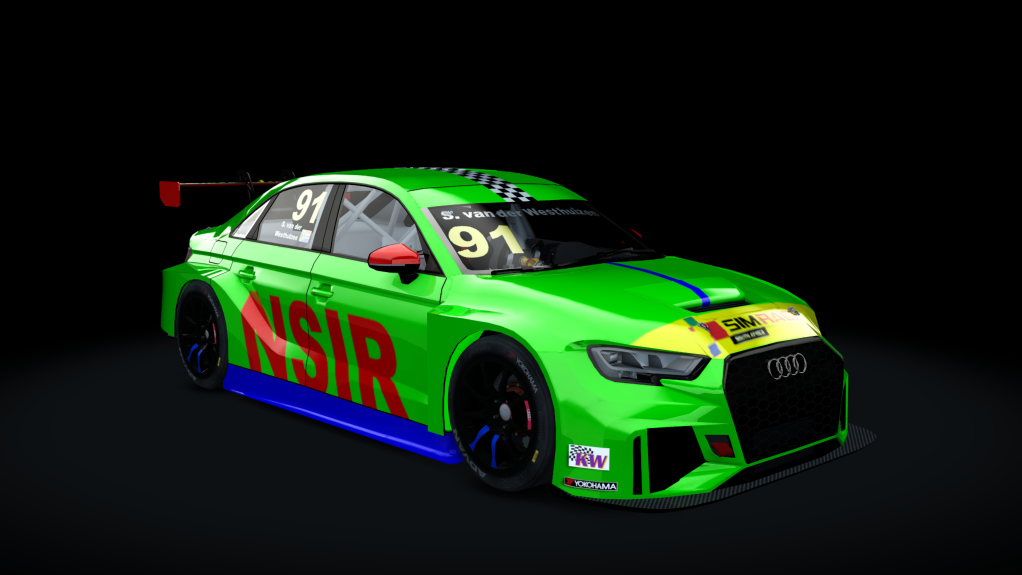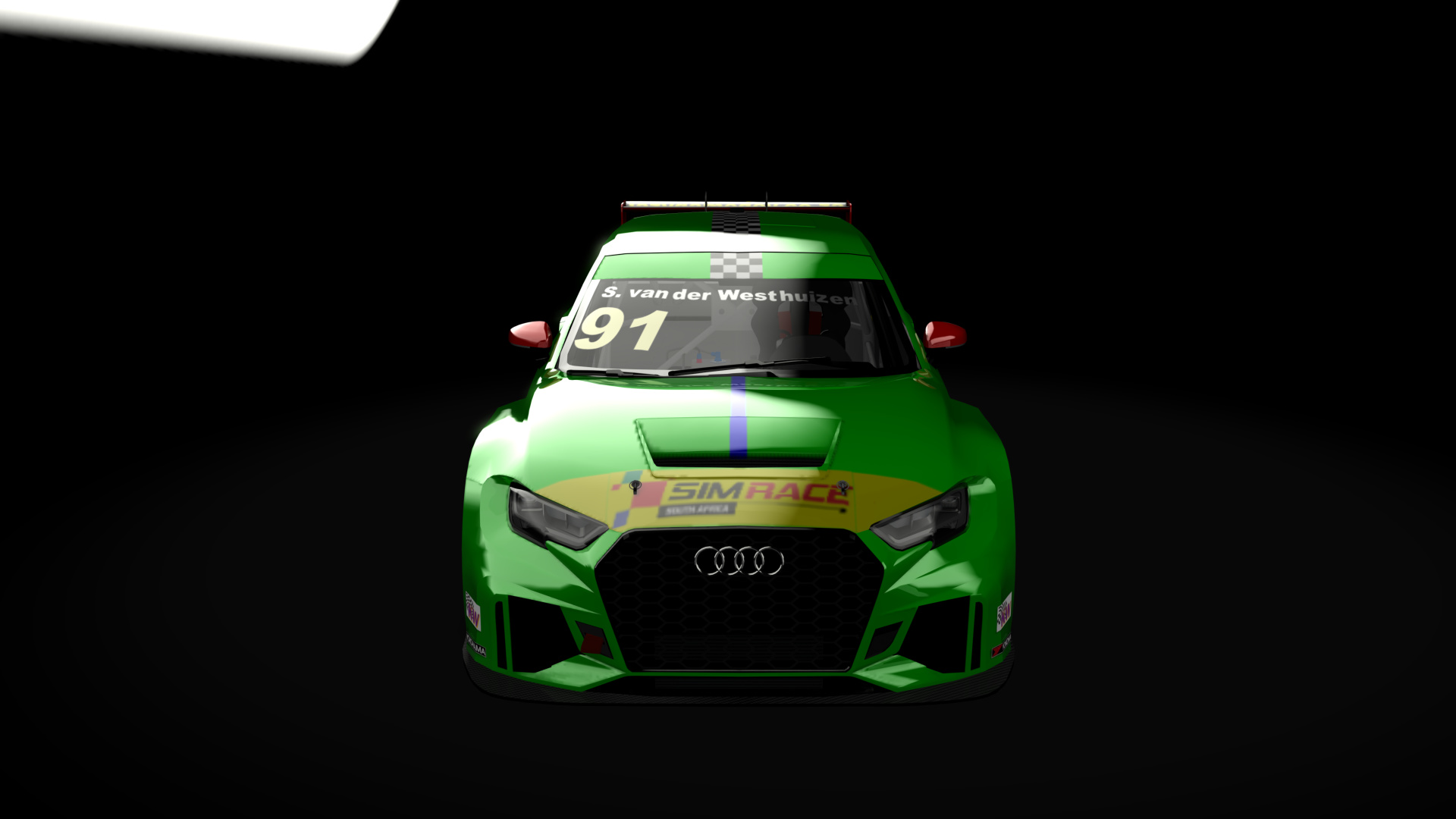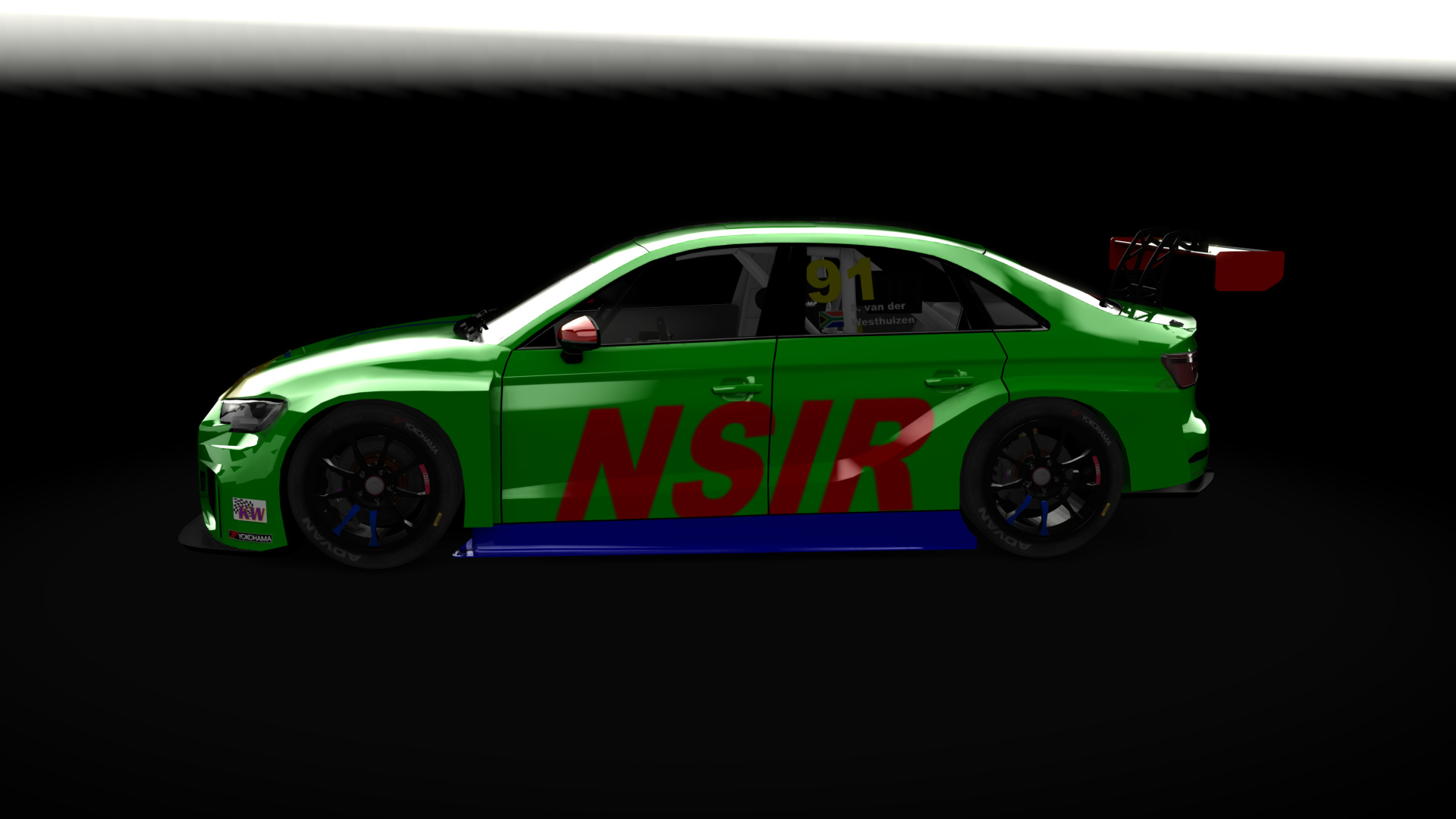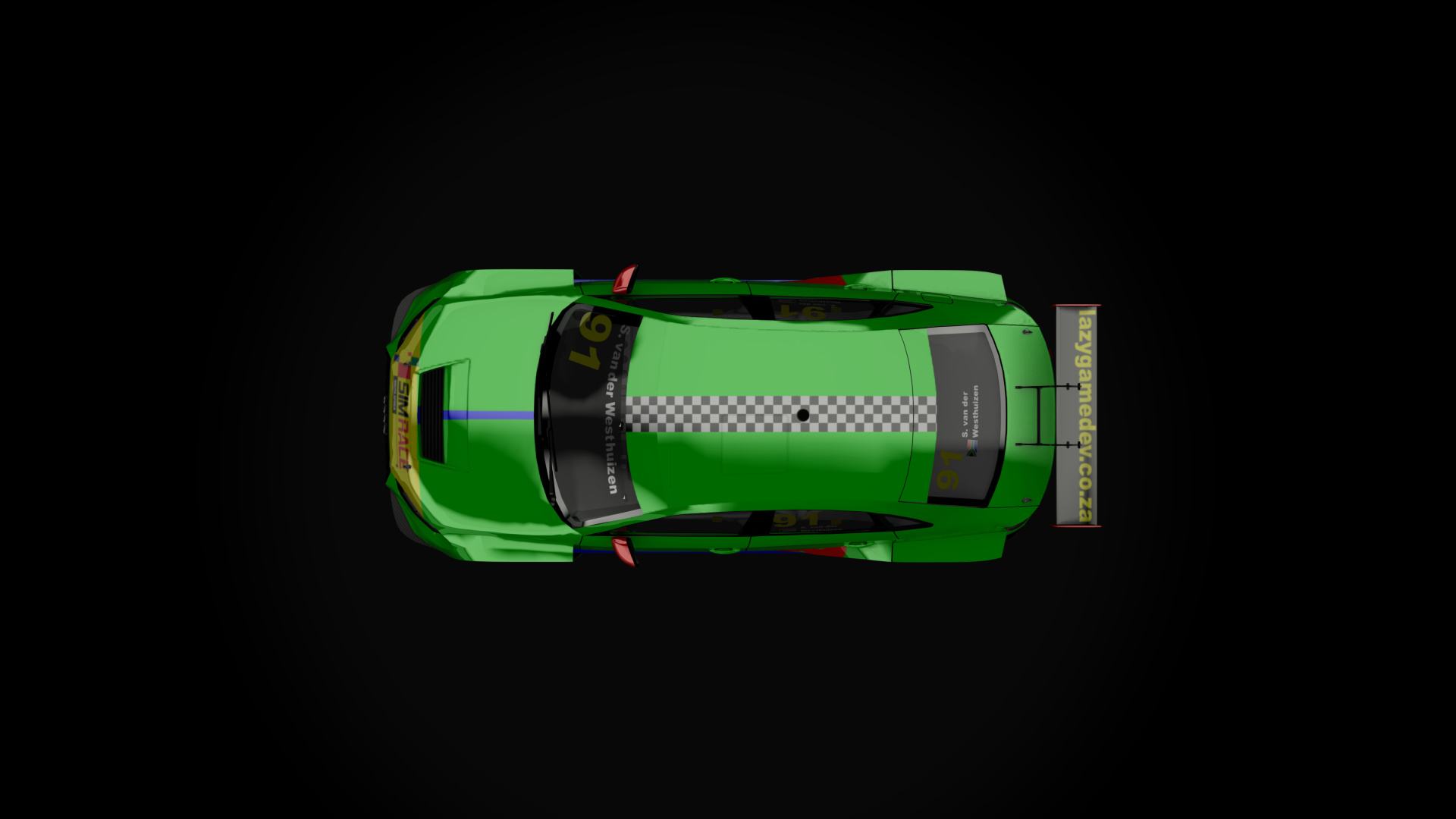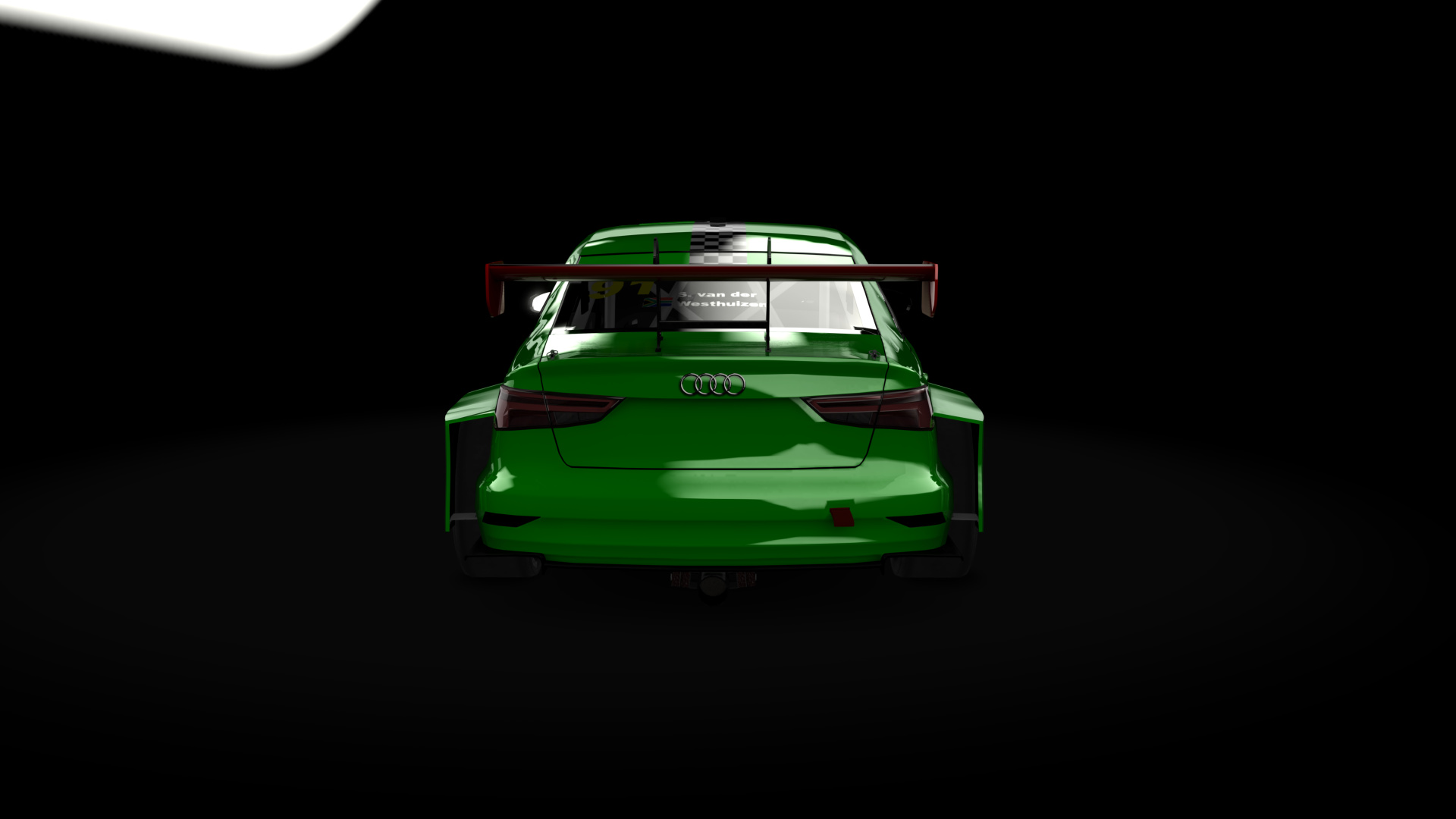 2020-07-07
I was contacted by someone who expressed interest in joining forces as part of a team. They were planning on using the Ferrari 488 GT3 to race so I decided to switch to that car so that we could possibly share setup tips. This meant all previous work I'd done on the Aston Martin was completely wasted and I ultimately chose to just use the in-game livery editor and slap my horrible colour scheme on top. I used this in last night's race where I made the big mistake of not noticing I was battling with a front-runner, but I'll hopefully get something better for the next race. The race coverage is linked below and I only showed up for a very short amount of time, but I still really like how well the colours stand out.
I did enlist the help of my cousin who does graphic design work and she's quite excited to give my F3 livery a bit of a facelift. I'm not closing this project just yet, but will hopefully have some updates soon that show some nice liveries.
2020-06-29
I removed the gradient as it was creating a yellow band that I just wasn't happy with. I've also coloured the rest of the panels that still required colouring and tweaked some of the material settings. There's still some weirdness in the green that makes it appear quite washed out at certain angles, but I'll deal with that later.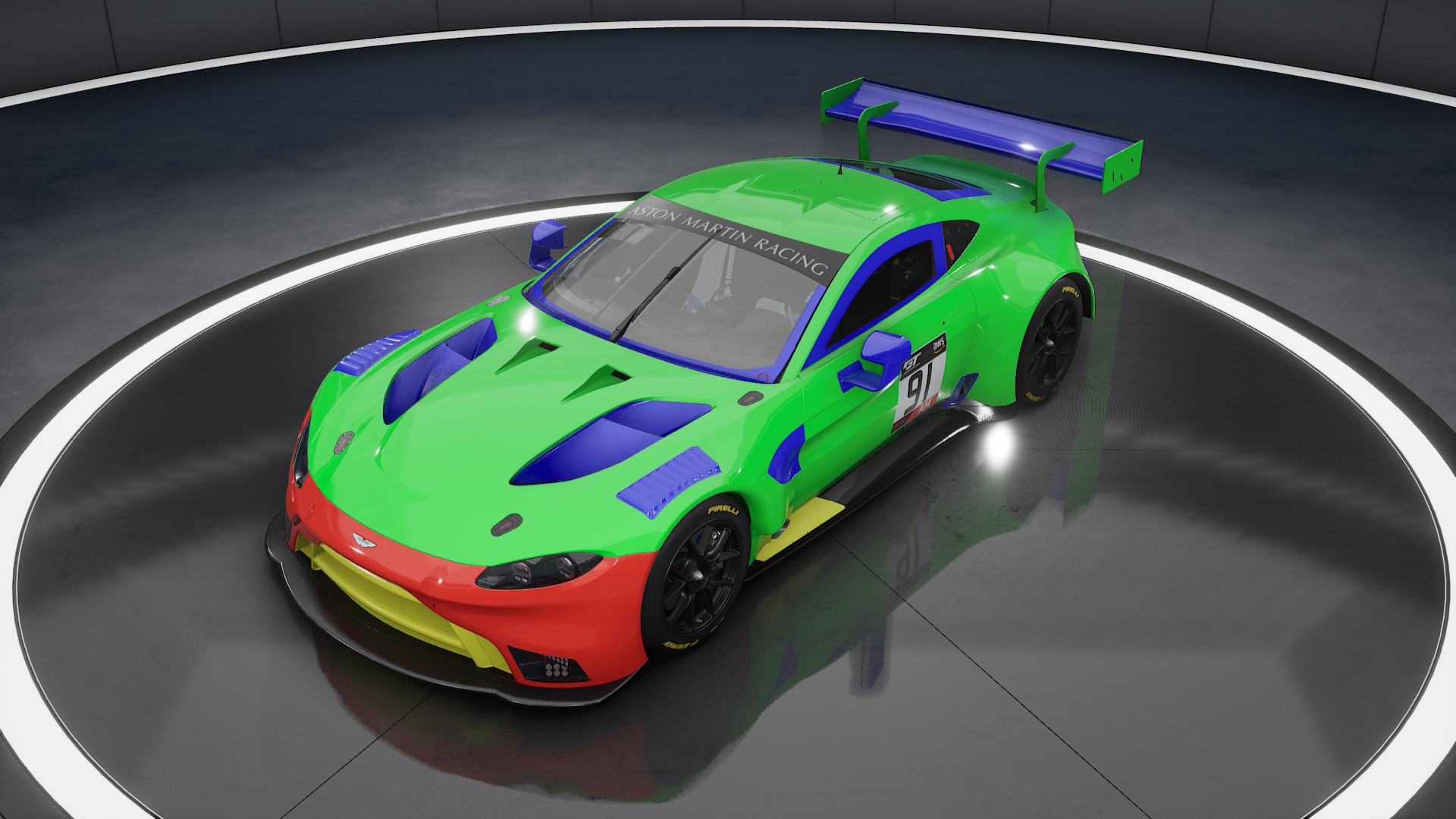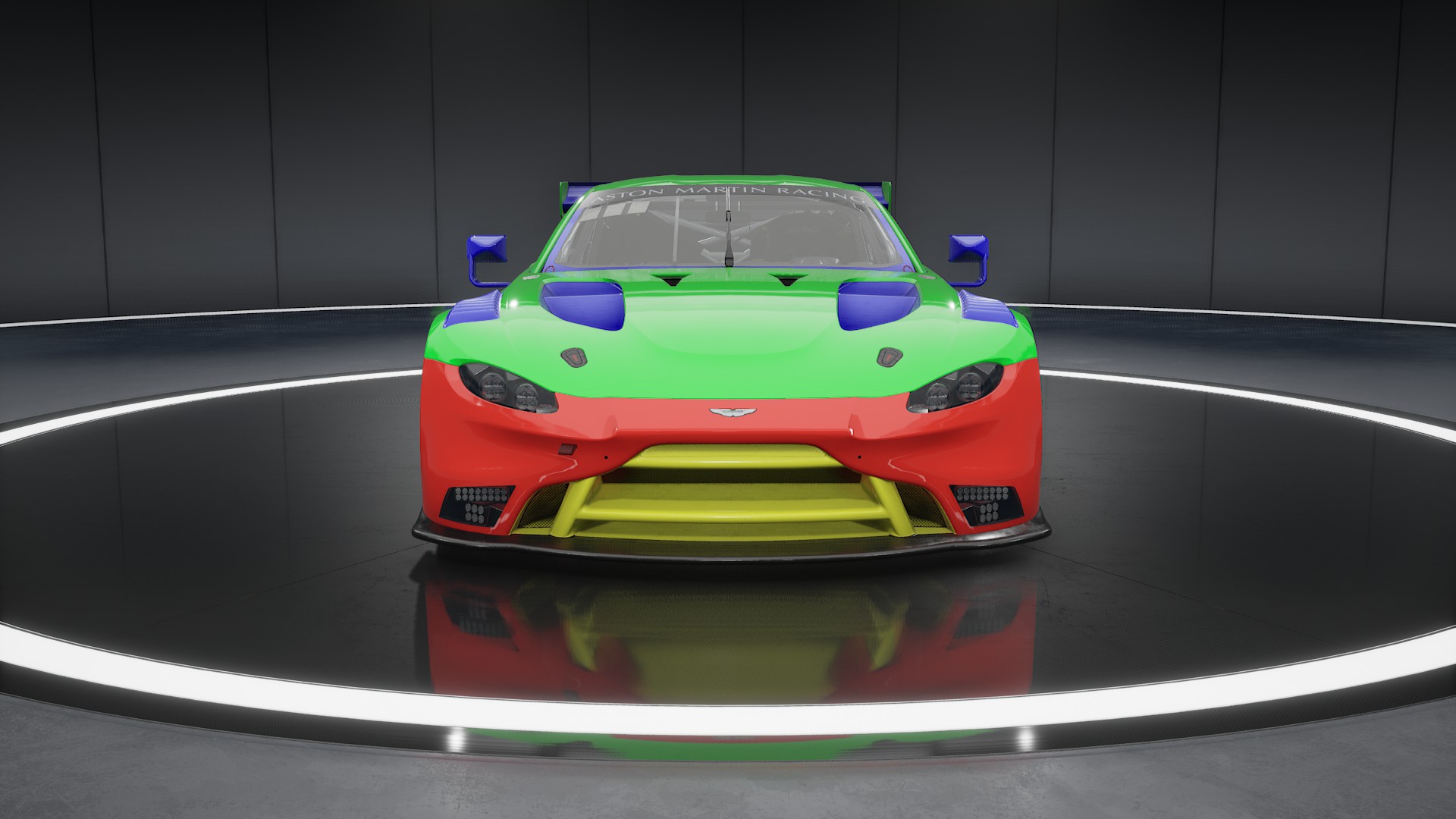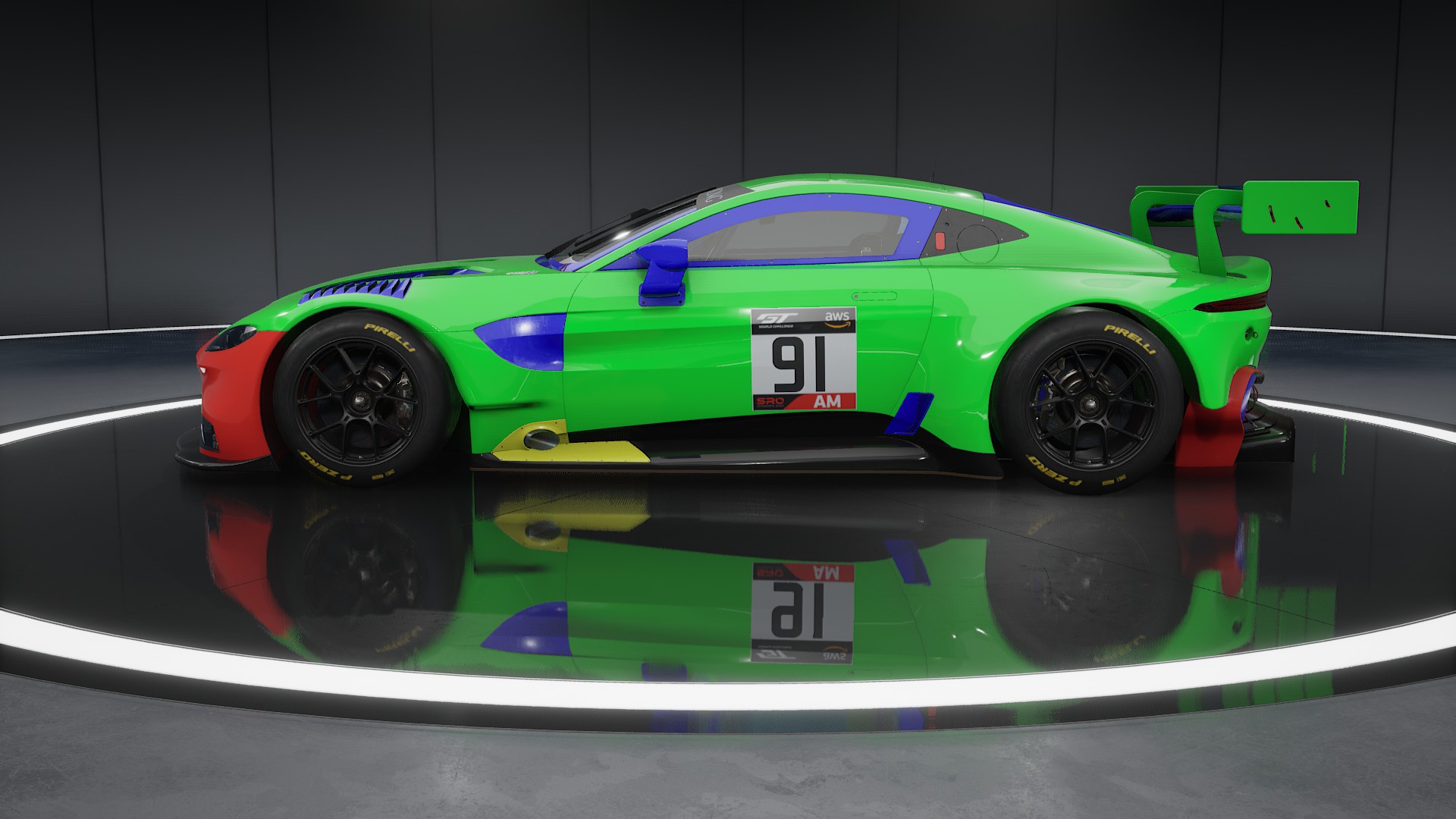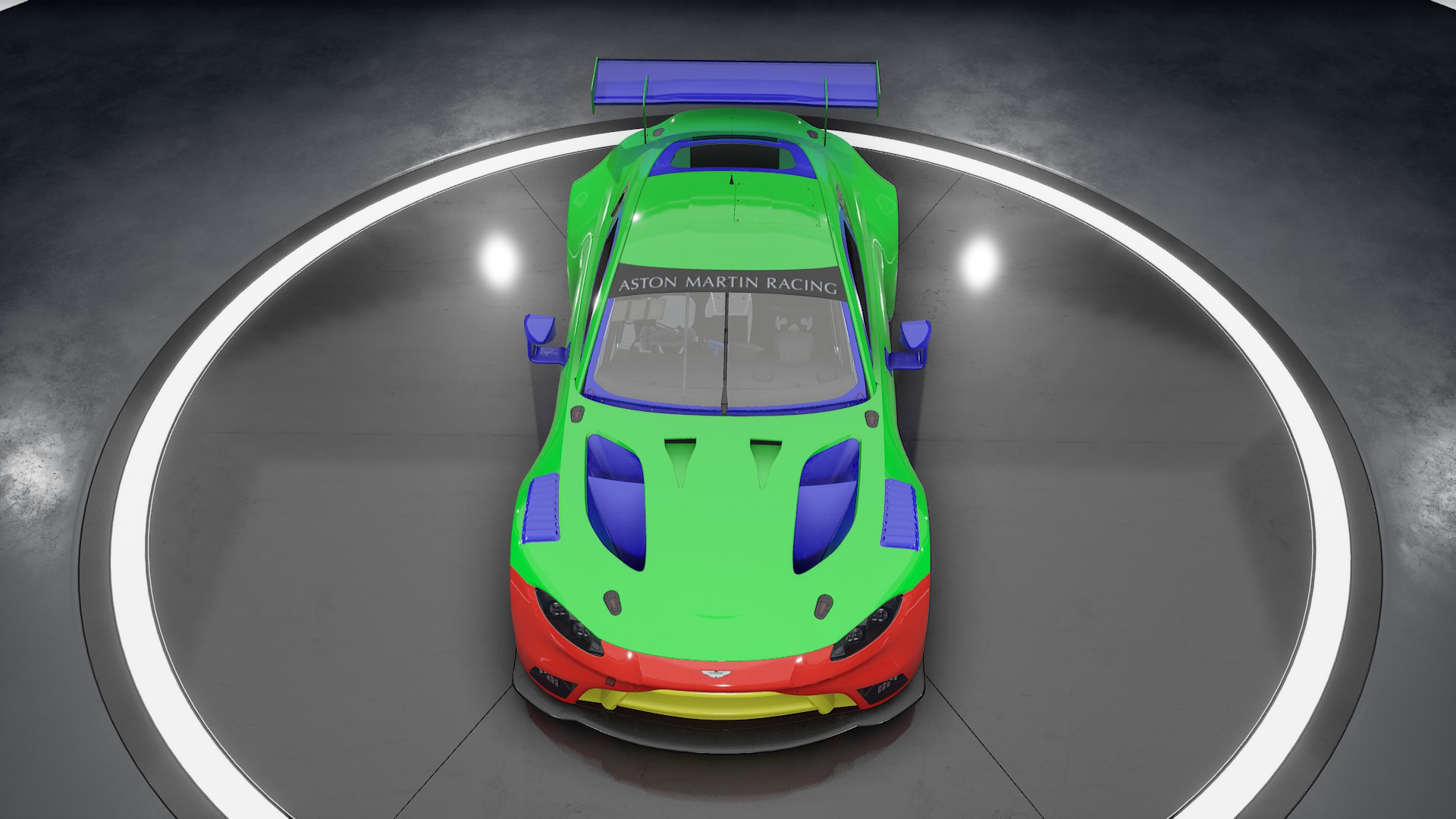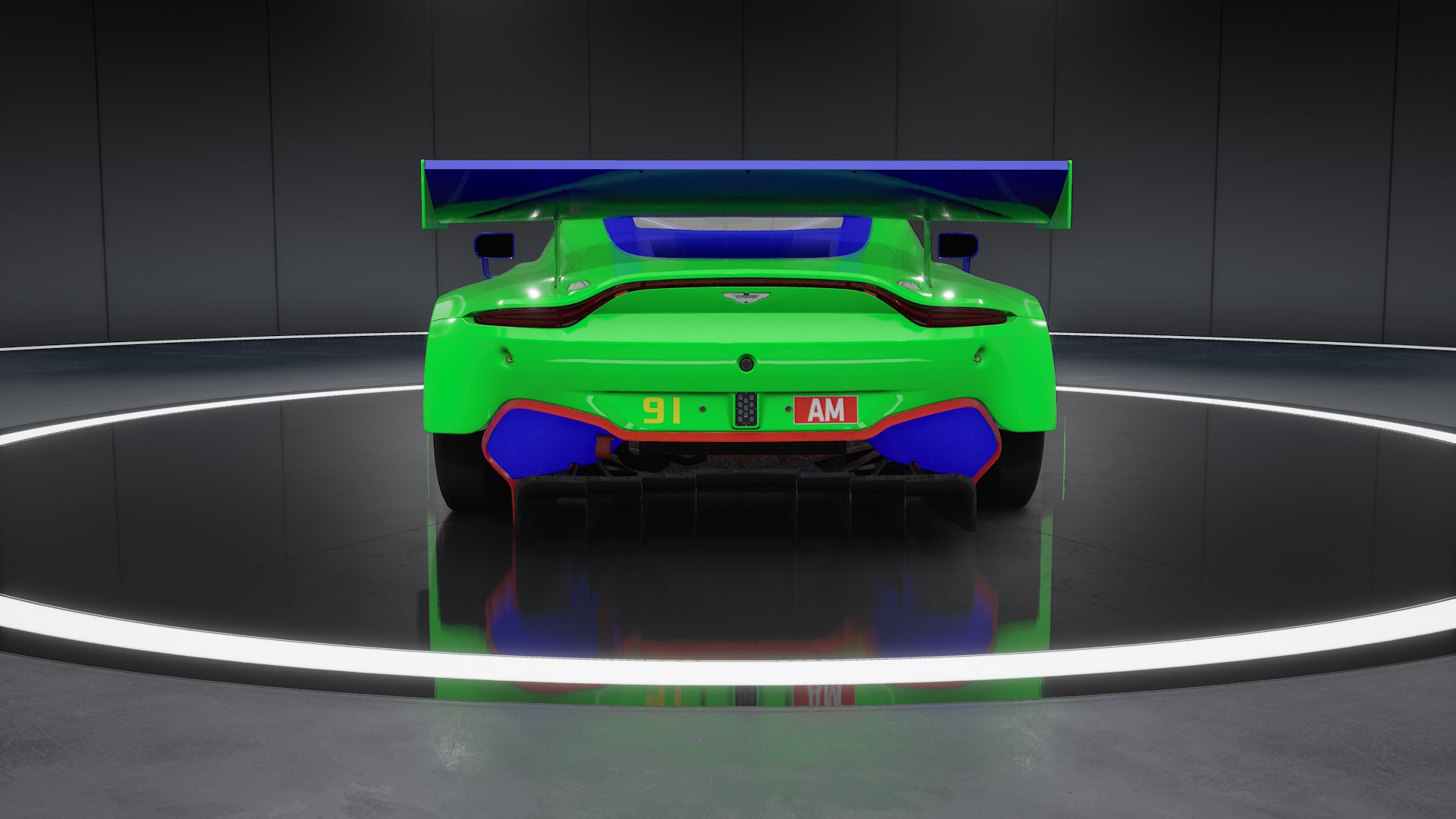 2020-06-28
I started with the Aston Martin livery and cobbled together a base paint layer. There's still a handful of panels that need to be coloured, but I'm liking how much similar it's feeling to my F3 "Jelly Baby" livery. I'm not completely happy yet, but I feel it's a good start and I can work on improving the look quite a bit still. There's still a lot I can do by tweaking the materials and once I have some actual decals and sponsors on it'll also start feeling more like a proper livery.